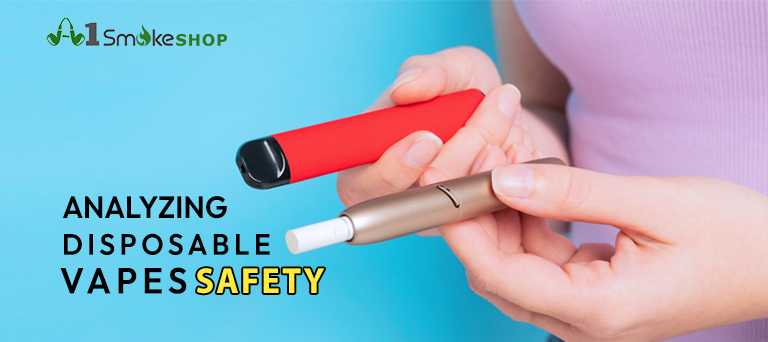 Analyzing Disposable Vapes' Safety
Disposable vapes are gaining traction amongst those considering quitting smoking. Primarily being throw-away devices, disposable vapes are a rage for those just starting their vaping journey. If you are pro-disposable vapes, search the Internet for the query 'Vape disposable near me' or 'Disposable vape near me' to start enjoying disposable vapes. If you live in or near Fontana, CA, search the Internet for 'A1 Disposable Store, Fontana, CA.'
But disposable vapes have lately been stealing news headlines for various reasons. Skeptics have begun questioning the safety of disposable vapes. If you are one of the skeptics or a newbie to disposable vapes, keep reading for vaping wisdom.
In this blog, we shall clearly explain the safety of disposable vapes so you can make an informed choice. Let's decipher facts from myths when it comes to disposable vapes.
What is disposable vapes?
Disposable vapes (or nicotine-infused aerosols) look identical to e-cigarettes but are thinner and smaller, having a tank (or a chamber) with the juice that vaporizes with the combustion. The atomizer and a heating system identical to (but smaller than) an e-cigarette allow a disposable vape to vaporize the e-juice. Disposable vapes are not to be refilled or recharged.
Innovative harm-reducing vaping devices have made disposable vapes more acceptable and less harmful than tobacco cigarettes. Disposable vapes are to be responsibly disposed of after their battery or e-liquid gets used. They come in flavors, are affordable, and are easy to use.
Safety and benefits of disposable vapes
In terms of impact, disposable vapes are similar to regular vapes. Public Health England (PHE) research states vapes are 95% safer than combustible tobacco products. The said PHE study even finds that e-cigarettes can assist a larger population in quitting smoking.
PHE professor John Newton says, "Vaping is likely to pose only a fraction of the risk." Research also reveals vapes are highly effective in helping to stop smoking.
Disposable vapes allow for vaporizing dry herbs, concentrated oils, or wax—assisting in stopping cigarette smoking, per various studies. You can use e-liquid oil vape pens with nicotine or without them, as required. Disposable vapes give a finer satisfaction than cigarettes as a low-cost alternative.
Clearing disposable vape myths
Disposable vapes are similar to conventional cigarettes having nicotine:
Tobacco cigarettes have additives and chemicals (tar, arsenic, lead, carbon monoxide, etc.). Disposable vapes have watery vapor without the harmful ingredients of a tobacco-based cigarette. The categorization of e-liquids is via their nicotine concentration.
The nicotine levels in cigarettes tend to vary, making it problematic to realize the nicotine exposure of smoking. It is possible to know the nicotine level in you vape juice, but the nicotine level of a single cigarette is unknown.
Disposable vapes tend to explode in your face:
Well, no. Altering the e-juice is not advisable. It is also a must that you use recommended batteries for compatible models of vapes. Buy a high-quality disposable vape and not a knock-off e-cigarette. Buy disposable vapes from reputable companies, such as A1 Smoke Shop Fontana CA, and follow the recommended guidelines.
Disposable vapes have harmful chemicals:
Vape juice or e-liquid produces vapors by getting heated. E-juices also do not cause Popcorn Lung rare conditions. Vape juices do not tend to contain diacetyl.
E-juices have varying contents of propylene glycol, glycerin, water, nicotine, and flavors. While the content of up to 90% propylene glycol and glycerin in e-juices, a couple of e-liquids could have no nicotine concentration.
Media Reports on Vaping:
Media reports on vaping mostly tend to refrain from mentioning in-depth statistics. In the United Kingdom and European Union, the Tobacco Products Directives (TPD) regulations limit devices to have nicotine below 20 mg per m/l, while the total capacity cap is 2ml.
TPDs impose an EU-level tracking and tracing for the prevention of illegal trade of tobacco products. Vapes do not have the tar or carbon monoxide (causing smoking illnesses) found in cigarettes.
Don't Use Fake or Copycat Vapes:
Only use genuine vaping devices (such as A1 Disposable Vape) manufactured by the same company whose branding is visible in the box. Most in-demand disposable devices also have counterfeits that catch the attention of newbie vapers allured by discounts. The e-liquid in disposable vapes must be TPD-compliant and free from harmful ingredients. Buy only from a trusted and reliable retailer, such as A1 Disposable Store, Fontana, CA. A1 Disposable Vapes belong to the gold standard category when it comes to vaping devices. Search the Internet for the query 'Vape disposable near me' or 'Disposable vape near me' to locate the nearest A1 Disposable Store, Fontana, CA.
No Comments :